Assist. Prof. Caleb Simmons is no longer a member of DH@CERES. The information given on this page may therefore be outdated.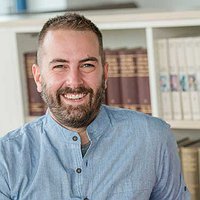 Assist. Prof. Caleb Simmons
KHK Visiting Research Fellow 2016
KHK Visiting Research Fellow 2016, Assistant Professor, Religious Studies Global Advisor, College of Humanities, Department for Religious Studies and Classics, The University of Arizona, Tucson, Arizona, USA
Caleb Simmons holds a B.A. and a M.A. in Religious Studies. With the dissertation The Goddess and the King: Cāmuṇḍēśvari and the Fashioning of the Woḍeyar Court of Mysore he was awarded a Ph.D. from the University of Florida (2014). Since then he has been an assistant professor at the University of Arizona, USA. Furthermore, he was an expert content consultant for the Pearson Online Religion Database by Ohlinger Publishing Services (2011-2013) and a visiting assistant professor at the University of Mississippi, USA (2011-2012).
He is specializing in the study of South Asian religions, specifically Hinduism, as well as in the theory and methodology in the academic study of religion. In addition to that, he is interested in contemporary transnational aspects of Hinduism, especially relating to theoretical issues within material and popular culture that arise as a result of globalization, and the exploration of ecological issues regarding sacred geography in India. These research interests enable him to see the historical development of Indian devotional traditions from the pre-modern period through the colonial and post-colonial periods.
During his studies and professions, he was recognized as an honorary fellow for "Distinguished Work on Indian Textual History" by the Archive India Institute, India (2013-2015) and won the Daniel H.H. Ingalls Memorial Fellowship by the American Institute of Indian Studies, USA (2013-2014). He has published articles on the controversies within the Hindu diaspora community over the film Sita Sings the Blues, on the presentation and reception of modern serigraphy and mixed media depictions of Durgā in Brazil, India, and the United States, and on American graphic novels and comic books that depict Hindu deities.
While being at the KHK he works on "Creating an Incorporeal Empire. The Process of "Transcending" the Mysore Kingdom through Interreligious and Intercultural Interaction"
Education
Ph.D., Religion, University of Florida, 2014
M.A., Religion, Florida State University, 2008
B.A., Religious Studies, Missouri State University, 2005
KHK Fellowship
Duration: October 2016 to August 2017
External Website